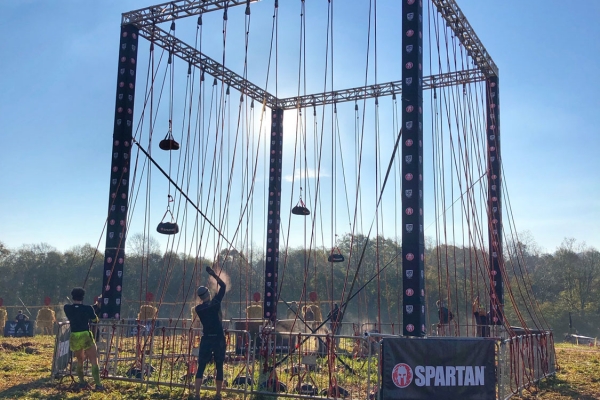 I've long watched and wondered about the sanity of people who participate in obstacle course races (OCR) and whether or not I could possible endure that type of personal torture for the full race. Could I make the cut? In case you are not familiar, these races are a type of endurance race – complete with obstacles, fitness challenges beyond your wildest belief, less than perfect course conditions and mud, lots and lots of mud. Much like the Peace Corps, there will be times when you think, "Why am I doing this?"
But never when you are done will you ever hear a finisher say, "Why did I do that!?!"
But after impulsively signing up for Spartan Race with my friend Jane, I thought it only fair to share some advice we wish we had considered before signing up. Proceed with caution because one thing they don't tell you is HOW addictive Spartan Races are.
See you out on a course some day! Good luck with your Spartan Race preparation!
Create a team or at least pair up with a partner. Some of the obstacles are next to impossible to complete without help, so working together can be your key to finishing and will also keep your spirits up as you begin to get tired.
There WILL be mud, so wear sleeves and fitted clothing. We suggest moisture wicking material and something you can tuck in – otherwise you will discover mud in places you never imagined it could go!
Aleve (or the long lasting pain reliever of your choice) – take this before you begin and have some ready when you finish.
Did I mention the mud? Wear earplugs so that you keep it out of your ears or clean them post-race. Mud dries and cleaning your ears never seemed like such an arduous task until after a Spartan Race.
Along with your fitted clothing, we suggest Smartwool socks ~ cotton socks DO NOT WORK for this type of event and your feet will thank you.
You will need an energy boost, so put some energy gummies or similar snack in a water tight bag in your pocket.
To help you prepare, take the time to watch YouTube videos on races similar in style to what you have registered for. Tips on how to master obstacles, save energy and basically survive the event will definitely be helpful!
Do your research on skill level categories and sign up dates for the race you choose. Most events have different competition skill levels, and even offer discounts for early sign up.
Bring a bag with clean clothes, flip flops and a few towels so you can change after the race. Be sure to include a large trash bag to store your muddy gear in as well.
ENJOY YOURSELF! The Spartan Race atmosphere is extremely positive and uplifting. Do your best, meet new friends, challenge yourself and be prepared to get hooked!
Every trip I take, I look to see if it corresponds with an OCR race in that area. I can't wait to do another one and can't believe I haven't just booked a trip around a Spartan Race yet. What, did you just challenge me? Game on!