Biscotti with almonds and anise is the most amazing coffee dipping cookie. The double baking is what makes it a low-moisture, shelf-stable, and perfect holiday cookie for cookie swaps. It's like a grown-up cookie, just enough sweet to be a treat that goes perfectly with a latte, or any coffee.
I started making them as Christmas gifts a few years back and for all three of you who asked for my almond and anise biscotti recipe, here it is!
I don't DO recipes, I like to wing it, which is why I am more chef, less baker. But, I did put this recipe away for a few years and recently tried it again and it worked. Let me know if you make some 🙂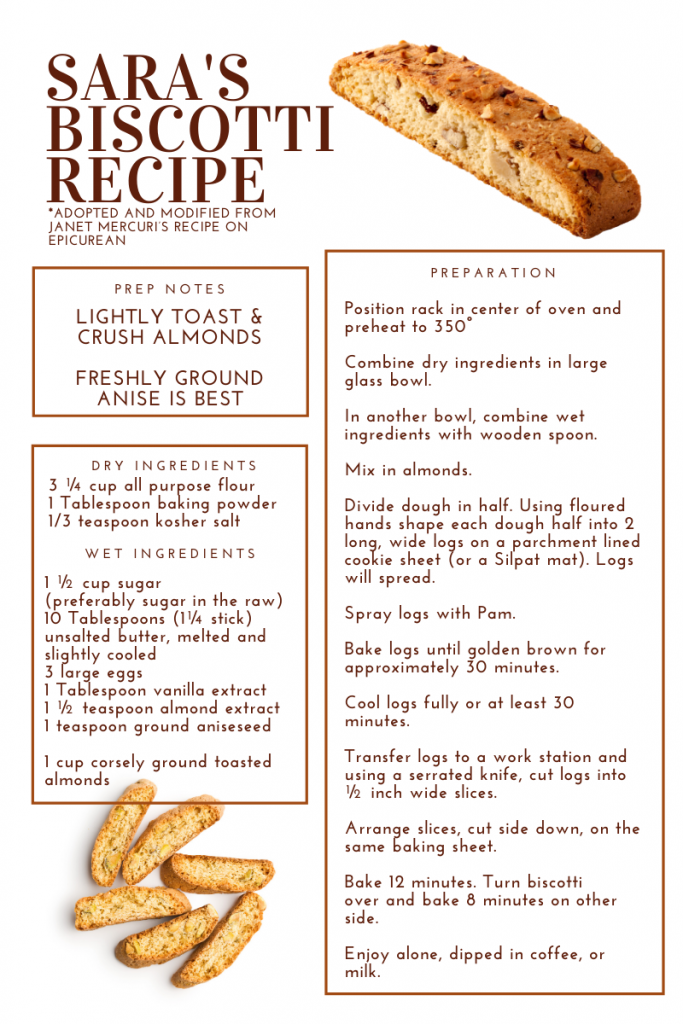 Click the above image for the downloadable Almond & Anise Biscotti Recipe
Sara's Almond & Anise Biscotti Recipe:
*adopted and modified from Janet Mercuri's recipe on Epicurean
Dry Ingredients:
3 ¼ cup all purpose flour
1 Tablespoon baking powder
1/3 teaspoon salt
Wet Ingredients:
1 ½ cup sugar (preferably sugar in the raw)
10 Tablespoons (1¼ stick) unsalted butter, melted and slightly cooled
3 large eggs
1 Tablespoon vanilla extract
1 ½ teaspoon almond extract
1 teaspoon ground aniseseed
Add In:
1 cup whole almonds, toasted and coarsely chopped (I find the mortar and pestle best)
Direction:
Position rack in center of oven and preheat to 350˚
Combine dry ingredients in large glass bowl.
In another bowl, combine sugar, melted butter, 3 eggs, vanilla, almond extract and aniseseed with wooden spoon.
Mix in almonds.
Divide dough in half. Using floured hands shape each dough half into 2 long, wide logs on a parchment lined cookie sheet ( or a Silpat mat).
Spray with Pam.
Bake logs until golden brown (logs will spread) for approximately 30 minutes.
Cool logs for 30 minutes.
Transfer logs to a work station and using a serrated knife, cut logs into ½ inch wide slices. Arrange slices, cut side down, on the same baking sheet.
Bake 12 minutes.
Turn biscotti over and bake 8 minutes on other side.
Enjoy alone, dipped in coffee or milk.