I live on St. Croix, a tropical island in the Caribbean. I am proud to be location-independent. The best reminder of my lifestyle choice comes when I leave my rock and head to The States to visit a client and mention where I live. I get asked zillions of questions about what it's like to live on St. Croix, how do I get my work done, and if I go to the beach ALL the time. I don't usually think that my life is that different while I'm living it, but that perspective reminds me that we made some interesting choices to live where I live.
When I moved to St. Croix this last time (I've moved here and moved away before), I kept the same clients. Besides telling them that I was now on different time zone and that I needed a bit more lead time to book my onsite visits – my work continued as normal. My clients just assumed my new office was the same, but with a beautiful ocean breeze in the background. 
It's true – I do hear the ocean from my office windows. However, working remotely on an island is not always sand-in-your-toes and rum-punch-at-sunset. Once a rooster crowed while I was on a conference call working from a cafe in town – that was embarrassing. In the summer, my home office can be quite stifling with no air conditioning and my productivity stalls in the Caribbean heat, so I seek out cafes with a/c and good internet. When the island power goes out, and that can be quite often, I pull-start the generator and run extension cords to the internet router and a fan (and the fridge if it's out longer than an hour) then go back to norm OR I go find my favorite wi-fi hotspot.
I wouldn't trade living here for anything, but it has taken some getting used to being a remote worker in a tropical destination. I love being location-independent, but sometimes I crave other human interactions. Yet another reason to love the laptop lifestyle. Believe it or not, there are tons of us on St. Croix that work remotely or are digital nomads so sometimes picking up your office and being a bit more social is good for the creativity. 
I've compiled some of my favorite St. Croix co-working spaces and public internet-friendly places to work on in both Christiansted and Frederiksted. I encourage you to comment with your favorite spaces too!
As anywhere in the world, use internet cafe etiquette and please buy something from the cafe or store to support them paying their internet (which you are using) and be mindful of the time and space spent there. Even if they don't say it, free internet is an amenity for guests and patrons. 
Christiansted:
Caravelle Market – Arguably some of the best pates in Christiansted, Caravelle Market is located in the Caravelle arcade just next to Dashi Restaurant. There are a few tables inside the market and a few outside and the internet is reliable. Caravelle also has a generator that powers the hotel and casino when the power is out, so this is a great place to get your remote work done.
Grounded Cafe – A brand new cafe on Strand Street just next door from 17/54 with a lovely co-working table and good internet. Definitely a good spot to set up shop for some work time.
Twin City Coffee House and Gallery – Just next door to the Company House Hotel, Twin City Cafe has great breakfast, strong coffee, and if you are a patron, they will give you the internet password. 
Cafe Fresco – Delicious breakfast and lunch spot in a beautiful courtyard off the main street, Cafe Fresco will lend you the wifi password. Be respectful of their busy times as they have limited seating.
The Courtyard – A beautiful spot to take a yoga class and enjoy a Vegan (or non-Vegan) breakfast or lunch treat. Drip coffee only, but great juices and smoothies are available. The internet is steady and I haven't gone here when the power is out, so I can't give you the what-if scenario for that. 
Frederiksted:
Rhythms at Rainbow Beach – This is my favorite spot for remote work. Whether you belly up the bar for a pain killah (if your creative work allows this, mine does not) or you opt for a lovely lunch of local lobster tacos in a corner table just above the waves splashing for some silent work time, Rhythms wifi password is on the specials board and vibe is perfect to really make you feel like you made the right choice to work location-independently.
Polly's At The Pier – Sometimes a bit loud for computer work, so bring your headphones. They usually start the generator when the power is out. 
Rise Caribbean – This new cafe and rental co-working space includes fresh fabulous lunch food plus space for co-working or rentable office spaces for one, two, or three people upstairs right on the waterfront in Frederiksted.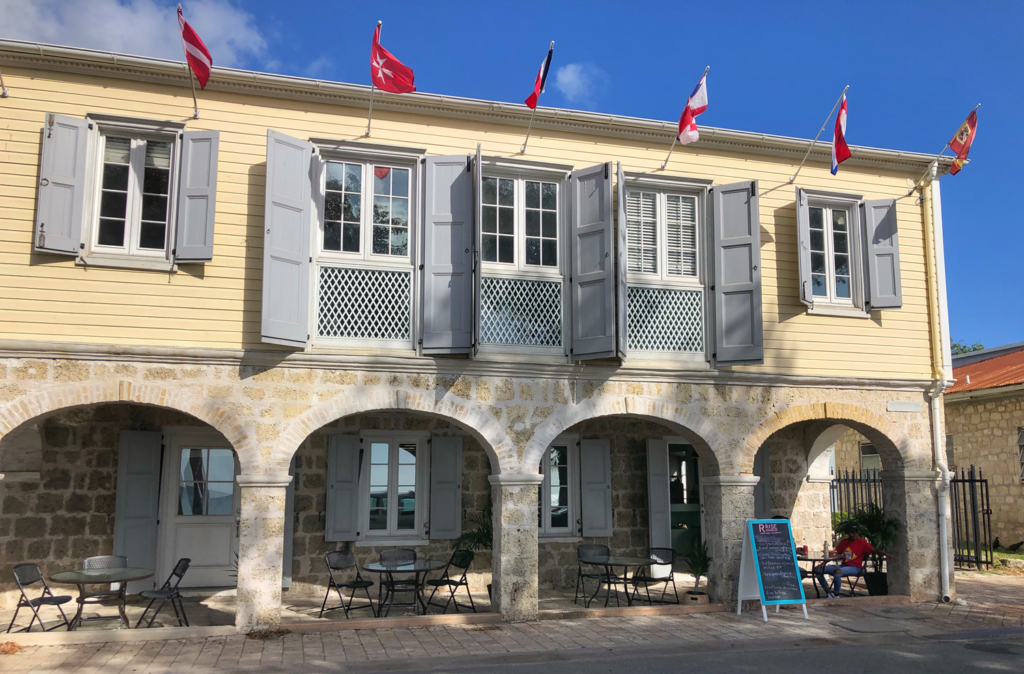 Louis and Nachos Beach Bar – The beautiful Caribbean sea facing patio is the one on my website header image when I was watching my son at sailing camp. The view is great, however the internet doesn't really cut the mustard. I went there once when the power was out and the spotty, maybe over-used internet did not work for me. The ceviche was fabulous though!