We eat in a lot, mainly because I LOVE to cook, so when we do eat out, we make it a 'thing.'
We go for the food yes, but we also go to socialize, see people, spend time as a family, get out of the house. And because Taj wants to be part of that decision, I asked him for his picks for favorite St. Croix restaurants, so here is our list of St. Croix Kid Friendly Restaurants. We used quality of food, availability of kid-friendly options, family-friendly environment, and service time as our qualifiers. Taj wanted to add kid-friendly mocktails to the criteria too.
If your child has one to add to this list, send us a note or drop a comment with the name and reasons why so we can add it to the list. 
We've created a Google Map of our favorite St. Croix kid-approved restaurants and we'll be adding more to this list!
Family-friendly and some days even dog-friendly, Un Amore has a lot of love for making its customers happy. Katherine, the owner and hostess extraordinaire, has been working with our son to fight the stagnant buttered noodle choice for years now. The kitchen takes your food restrictions seriously too. If you ask Taj what his favorite restaurant is, he will say Un Amore every single time. Maybe it's the fact that he is treated like the rest of us, maybe it's the cannolis, or maybe it's because the food is truly made with love. And if he does choose buttered noodles, at least we know they are homemade.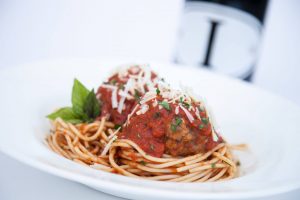 Our go-to for takeout on the west end. Smoke STX has our favorite ribs on island–not to mention the coleslaw is to die for, the smoked mac and cheese is amazing, and traditional cornbread really does round it all out. Anything you can eat with your fingers gets extra points for kids, right? They offer a family meal with a number of meats and a plethora of sides, or you can mix and match on your own. 
We are pizza connoisseurs at our house. I have been told that my pizza is one of the best. Taj will change his answer for best pizza on island on any given day between The Mill and mine. However, I do not have a brick oven like The Mill and they do have some fun topping options too. It's also a great social spot.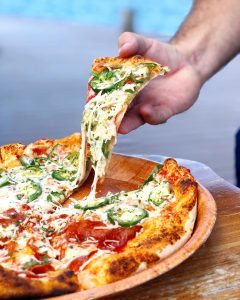 Though Taj has graduated from the kids' menu and can now eat a full-size adult portion of anything, we love that Rainbow has kids' Mahi bites on the kids menu. It's like fish sticks without the breading. He also likes the wings, onion rings, burger, sweet potato fries–oh, the list goes on. The best part is that he can swim while waiting for his meal. We just give him a wave when the food is ready. 
Another favorite spot for Taj because they have calamari and onion rings. Yes, he's all about the fried stuff when we go out. The other reason we really like No Bones is they tend to get the food to the table without delay. Sometimes on St. Croix, restaurants don't plan for the busiest of times, which is unfortunately when the family tends to go out and which can really push the hangry little ones into a bottomless swirl of crankiness. We know that if it's a busy night, No Bones will serve up dinner in a timely fashion.
There are so many other great island spots to go with the family, so we'll add some more here soon. Honorable mentions go to Rum Runners, Lost Dog Pizza, Shupes on the Boardwalk, Chicken Shack. What's your favorite?